Pediatric Dentistry in Santa Monica, CA
Dr. Bobak Morshed has been practicing pediatric dentistry in Santa Monica for over 20 years. He is extremely caring and gentle and treats children of all ages and temperaments.

Our office provides a very caring, calm and non-threatening environment for your child. Your child's first visit to the dental office should be around his or her first birthday, but could be as soon as the child's first tooth eruption, as recommended by the American Dental Association.
Baby (primary) teeth may be temporary, but oral hygiene and dental care is just as important in childhood as it is in adulthood. In fact, establishing good dental habits early is the best way to ensure that your children will continue to enjoy good oral health well into adulthood. Dr. Bobak Morshed at Morshed Dentistry recommends that you schedule your child's first dental appointment shortly after their third birthday or whenever dental concerns arise.
Pediatric Dentistry in Santa Monica, CA
Primary teeth are as susceptible to cavities and decay as permanent teeth, and children who eat and drink sugary snacks are especially vulnerable to cavity causing bacteria. As young children learn how to brush properly and improve their technique, it is important to make sure that they are cleaning the entire tooth surface and between the teeth and gums. Introducing floss as soon as the primary teeth are close enough to touch is also recommended.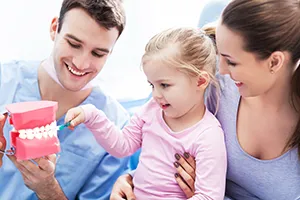 A pediatric dentist also helps to establish positive and pleasant associations with going to the dentist to prevent fear and anxiety, a common problem and roadblock for getting needed dental treatment for many adults as well as children. In addition to a standard dental check up, a pediatric dentist also monitors development and any potential bite or alignment problems so that they can be addressed as soon as possible.

A pediatric dental appointment is the perfect time to ask questions and to get insight into taking care of your child's oral healthcare needs at home. The typical first dental appointment for your child could include one or more of the following:
A gentle but thorough examination of the teeth, jaw, bite, gums, and oral tissues to monitor growth and development and observe any problem areas.
If needed, a gentle cleaning, which includes polishing teeth and removing any plaque, tartar build-up, stains and application of fluoride.
X-rays if necessary.
A demonstration of proper dental hygiene.
Find a Pediatric Dentist in Santa Monica, CA
For more information on important dental milestones for your children and when to start dental treatment for your child,
Contact Morshed Dentistry in Santa Monica, CA by calling 310-393-9664
to schedule an appointment today.