Dental Implants in Santa Monica, CA
Dr. Bobak Morshed restores all types of implants and works closely with top oral surgeons and periodontists to create optimal function and esthetics.
You never thought you would be an adult dealing with tooth loss. Unfortunately, this is an all-too-common problem that affects millions of US adults. Maybe you thought this only happened as you got older or when you were a child. Sadly, there are many people living with one or more missing teeth. Luckily, there is good news. Here at Morshed Dentistry, our dental team offers dental implants to improve your oral health and give you a full smile again.

If you are looking for the next best thing to a real tooth then look no further than dental implants, a restoration that functions and looks just like a real tooth. In fact, it is so durable that it could end up lasting the rest of your life with the proper care.

What makes implants different from other tooth replacement options is that the small metal post actually replaces the missing tooth's roots. Even though you can't see the roots of the teeth they are vital for a healthy smile. After all, it is the roots that provide the jawbone with the stimulation it needs to remain strong and healthy. Without tooth roots to stimulate the jawbone the jawbone will deteriorate.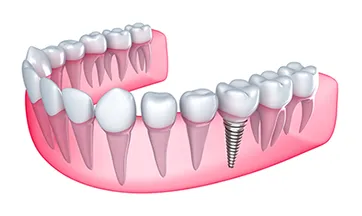 To prevent bone loss, it's important that you turn to our dental team to find out if implants are the best approach for replacing your missing tooth or teeth. If you are missing a single tooth, then a single implant will be surgically placed into the jawbone during a simple inpatient procedure. Over the course of a few months, the jawbone and tissue will grow around the implant and fuse together with it, making it a permanent part of the jawbone.

Once the bone and implant have become a permanent unit, the next step is to place a structure known as an abutment over top of the implant. The sole purpose of an abutment is to be able to connect the dental crown with the implant. We will have to open up the gums to reveal the implant so that we can attach the abutment to the implant. After several weeks of healing, it's now time to permanently place the crown over the abutment to complete the restoration.

It can take up to one year or more to get your implant and you will have to undergo one or more procedures in order to get the tooth replacement; however, having a restoration that lasts the rest of your life has made it more than worth it for our patients.
If you want to find out if you are an ideal candidate for dental implants in Santa Monica, CA,
then call Morshed Dentistry today at (310) 393-9664.