Posts for tag: dental care
By Morshed Dentistry
September 03, 2019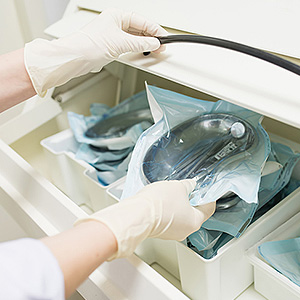 Visiting the dentist for regular cleanings and needed dental work can do wonders for keeping your teeth and gums in tip-top shape. But if you've seen or heard about infections occurring in healthcare facilities, you might be a little concerned that your trip to the dentist might expose you to one. Don't be! You and your family will be out of harm's way because your dental team has made protection from viruses, bacteria and other infectious agents a top priority. To highlight this effort, the American Academy of Oral Medicine commemorates each September as "National Dental Infection Control Awareness Month."
As a healthcare provider, dentists have a legal, moral and ethical obligation to protect patients (and staff members too) from infection through what are known as "standard precautions." These include barrier protection, disinfection and sterilization practices, and safe disposal of contaminated items.
But dentists and their professional organizations don't stop with the minimum requirements—they're committed to a higher standard when it comes to infection control. The bedrock for this commitment is adherence to an infection control checklist developed by the U.S. Centers for Disease Control (CDC), updated regularly. This in-depth checklist recommends several best practices and protocols, including:
Creating a written infection control plan that outlines all practices and procedures to be followed by the provider and staff;
Barrier protection, including the wearing of disposable gloves, face shields or gowns by providers as appropriate;
Proper disposal methods for used items;
Proper hand washing and other hygiene practices before and after treatment procedures;
Proper disinfection and sterilization of instruments and equipment;
Most licensing bodies also require that dentists and their staff undergo continuing education in infection control, usually every two years.
Because you as a patient have a right to know the details about your medical and dental care, you have public access to infection control guidelines and requirements. You can also ask your dental provider about what steps they take to protect you and your family from infectious disease. They'll be glad to answer any questions you have to put your mind at ease about your safety.
The dental profession's commitment to patient and staff safety has drastically reduced the risk of any infection. Rest assured, your dental visit will be beneficial for your oral health—and safe for your general health too.
If you would like more information about infection control in the dental office, please contact us or schedule a consultation. To learn more, read the Dear Doctor magazine articles "Infection Control in the Dental Office" and "Shingles, Herpes Zoster: A One-Sided Facial Rash."
By Morshed Dentistry
July 15, 2014
As our profession advances, we dental professionals continue to find the biggest factor for successful outcomes is an informed patient. The more you know about your own teeth and gums, the greater your chance for a healthy outcome.
Regular dental care is fundamental to becoming informed. Your regular office visits and cleanings are an opportunity for us to "get real" — for you to learn the unvarnished truth about your dental issues and the reasons why you need to consider some options regarding your oral health. We also need to be just as realistic about what can or can't be done to improve your situation and the cost involved.
The best way to approach this is to develop a plan based on managing risk. Risk is essentially weighing anything we may potentially lose against the solutions for not losing it. In dentistry, we look at risk in four basic areas: periodontal, the threats to structures like gums, ligaments and bone that support the teeth; biomechanical, the threats to the structural integrity of teeth such as decay, enamel erosion or fracture; functional, problems that can arise with how the teeth, muscles and jaw joints work together; and aesthetic, the impact of all these threats to the outward appearance of your smile.
Once we know the risks you're facing, we then determine the best treatment approach for managing the risk based on costs and potential outcomes. For example, if you're diagnosed with gum disease, you're at risk for losing supporting bone and, ultimately, the affected teeth. Our primary goal is to prevent that loss from occurring through plaque and calculus removal that slow or stop the disease and allow affected tissues to heal. But if the disease has advanced and you've already experienced bone or even tooth loss, we may then need to modify our treatment goal by including gum surgery or tooth replacement options like dental implants.
Using a risk management approach helps us identify what needs to be treated and the most reasonable and achievable options for treating it. The foundation for this approach is prevention — stopping problems before they start or progress. Developing and maintaining this kind of action plan will help reduce your ultimate costs — emotional, social and financial.
If you would like more information on dental treatment planning, please contact us or schedule an appointment for a consultation. You can also learn more about this topic by reading the Dear Doctor magazine article "Successful Dental Treatment."