Posts for tag: chipped teeth
By Morshed Dentistry
January 25, 2021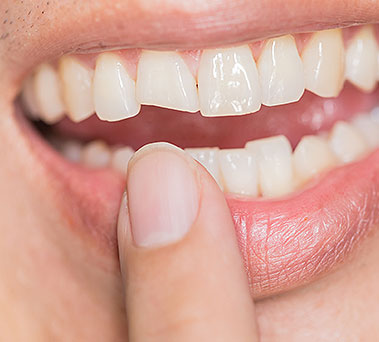 Chipped a tooth? Don't beat yourself up—this type of dental injury is quite common. In fact, you probably have a favorite celebrity who has chipped one or more of their teeth. The list is fairly long.
Some chipped a tooth away from the limelight, such as Tom Cruise (a hockey puck to the face as a teen), Jim Carrey (roughhousing on the playground) and Paul McCartney (a sudden stop with a moped). Others, though, chipped a tooth while "on the job." Taylor Swift, Hillary Duff and Jennifer Lopez have all chipped a tooth on stage with a microphone. And chipped teeth seem to be an occupational hazard among professional athletes like former NFL star, Jerry Rice.
Since smiles are an indispensable asset to high-profile celebrities, you can be sure these stars have had those chipped teeth restored. The good news is the same procedures they've undergone are readily available for anyone. The two most common restorations for chipped teeth are dental bonding and veneers.
The least invasive way to fix a chipped tooth is bonding with a material known as composite resin. With this technique, resin is first mixed to match the tooth color and then applied to the chipped area or applied in layers of color to get just the right look. After a bit of shaping, curing and adjustment, we're done—you can walk out with a restored tooth in one visit.
Bonding works well with slight to moderate chips, but it could be less durable when there is more extensive damage. For that, you may want to consider porcelain veneers. Veneers are thin wafers of dental porcelain that are bonded to the front of teeth to mask blemishes like stains, slight gaps or, yes, chips. Veneers can be so lifelike that you won't be able to tell the veneered tooth from your other teeth. They are fashioned to match the color and shape of an individual's teeth. Because of the time and design detail involved, veneers are more expensive than bonding, yet still within an affordable range for many.
Teeth require some alteration before applying traditional veneers because otherwise the teeth can appear bulky when the veneer is bonded to the existing tooth. To compensate, we remove a little of the tooth enamel. Because this loss is permanent, you'll need to wear veneers or have some other form of restoration for the tooth from then on. For many people, though, that's a small price to pay for a smile without chips.
Your first step to repairing a chipped tooth is to come in for an examination. From there, we'll recommend the best option for your situation. And regardless of which, bonding or veneers, we can change your smile for the better.
If you would like more information about restoring injured teeth, please contact us or schedule a consultation. To learn more, read the Dear Doctor magazine articles "Teeth Whitening" and "Porcelain Veneers: Strength and Beauty as Never Before."
By Morshed Dentistry
October 04, 2015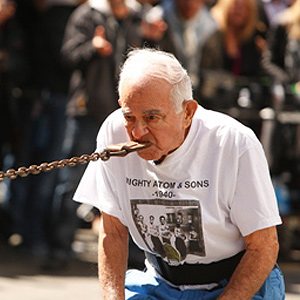 A recent episode of "America's Got Talent" featured an engaging 93-year-old strongman called The Mighty Atom Jr. The mature muscleman's stunt: moving a full-sized car (laden with his octogenarian "kid brother," his brother's wife, plus Atom's "lady friend") using just his teeth. Grinning for host Howie Mandel, Atom proudly told the TV audience that his teeth were all his own; then he grasped a leather strap in his mouth, and successfully pulled the car from a standstill.
We're pleased to see that the Atom has kept his natural teeth in good shape: He must have found time for brushing and flossing in between stunts. Needless to say, his "talent" isn't one we'd recommend trying at home. But aside from pulling vehicles, teeth can also be chipped or fractured by more mundane (yet still risky) activities — playing sports, nibbling on pencils, or biting too hard on ice. What can you do if that happens to your teeth?
Fortunately, we have a number of ways to repair cracked or chipped teeth. One of the easiest and fastest is cosmetic bonding with tooth-colored resins. Bonding can be used to fill in small chips, cracks and discolorations in the teeth. The bonding material is a high-tech mixture of plastic and glass components that's extremely lifelike, and can last for several years. Plus, it's a procedure that can be done right in the office, with minimal preparation or discomfort. However, it may not be suitable for larger chips, and it isn't the longest-lasting type of restoration.
When more of the tooth structure is missing, a crown (or cap) might be needed to restore the tooth's appearance and function. This involves creating a replacement for the entire visible part of the tooth in a dental lab — or in some cases, right in the office. It typically involves making a model of the damaged tooth and its neighbors, then fabricating a replica, which will fit perfectly into the bite. Finally, the replacement crown is permanently cemented to the damaged tooth. A crown replacement can last for many years if the tooth's roots are in good shape. But what if the roots have been dislodged?
In some cases it's possible to re-implant a tooth that has been knocked out — especially if it has been carefully preserved, and receives immediate professional attention. But if a tooth can't be saved (due to a deeply fractured root, for example) a dental implant offers today's best option for tooth replacement. This procedure has a success rate of over 95 percent, and gives you a natural looking replacement tooth that can last for the rest of your life.
So what have we learned? If you take care of your teeth, like strongman Atom, they can last a long time — but if you need to move your car, go get the keys.
If you would like more information about tooth restoration, please contact us or schedule an appointment for a consultation. You can learn more by reading the Dear Doctor magazine article "Crowns & Bridgework."
By Morshed Dentistry
June 27, 2013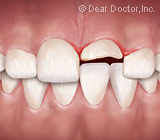 One went over the handlebars of his mountain bike. Another got an elbow going for a lay-up. For a third, it was that tricky maneuver on her new snowboard...
These are just a few of the ways that kids' teeth can be injured. (No doubt, parents can think of plenty more.) The good news is that modern dentistry offers more options than ever for treating the injury and restoring the appearance and function of the teeth.
Teeth that are fractured or dislodged are a serious condition that requires immediate, comprehensive treatment. The majority of dental injuries, however, are less severe: most often, they involve chipped teeth. If chips occur in the upper front teeth — as some 80% of dental injuries do — even small flaws can have a big affect on the appearance. And, especially in the teenage years, appearance can mean everything.
In many cases, small chips in the teeth can be repaired effectively using a procedure called "bonding." In this treatment, we use a tooth-colored material made by mixing a plastic matrix and a glass-like filler, which provides adequate strength and aesthetic qualities similar to the natural teeth. In fact, this composite material can be matched to an individual's tooth color so accurately that it's hard to notice any difference.
Composite resins can be successfully bonded to most healthy teeth — and they offer some advantages over other restoration methods, particularly for children and teenagers. The bonding procedure avoids making tiny "undercuts" in the natural substance of the tooth, while metal fillings need to "lock in" to the tooth's structure. This means that bondings generally require less tooth preparation, which usually makes bonding a quick and relatively easy method of restoration.
It's true that, over time, some bonded restorations may not stand up to the tremendous biting forces of the jaw as well as porcelain restorations — but in young people whose permanent teeth have large pulp (nerve) chambers, the removal of too much tooth structure could compromise the long-term health of the tooth. Later on, we can look at performing a different type of restoration.
If you have questions about cosmetic bonding or sports-related dental injuries, please contact us or schedule an appointment for a consultation. You can learn more in the Dear Doctor magazine articles "Repairing Chipped Teeth" and "An Introduction to Sports Injuries & Dentistry."