Posts for tag: bonding
By MORSHED DENTISTRY
October 01, 2018
What Is Dental Bonding?
Dental bonding can improve the overall appearance of your smile. Bonding is the application of a tooth-colored composite resin to the teeth to restore or improve a person's smile. With bonding, you have one of the fastest, easiest and most affordable dental treatments at your disposal. Morshed Dentistry, which is located in Santa Monica, CA, offers a full range of dental services. Dr. Mani Morshed, Dr. Noushin Morshed, and Dr. Bobak Morshed are some of the top dentists in Santa Monica, CA. Read on to learn more about dental bonding.
Dental Bonding Overview

Dental bonding can be used for a variety of tooth care needs. For example, it may be used to repair chipped teeth and cavities. It may also be used to close gaps between teeth and fix teeth that have become discolored. Sometimes it's used to make teeth look longer or to change their shape, so that they appear more attractive. Dentists also use dental bonding to protect the exposed roots of teeth.

Dental Bonding Procedure

Your dental care provider will use a shade guide to select a composite resin that matches the color of your tooth. The surface of the tooth is roughened and a conditioning liquid is applied. Then the bonding material is applied, molded, and smoothed to the desired shape on the tooth. Next, the composite resin is hardened with a special light. Finally, your dental care provider will trim, shape, and polish the bonded material to match the gloss of the rest of the tooth.

Benefits of Dental Bonding

Dental bonding can usually be done in just one visit. The procedure takes about 30-60 minutes to complete for each tooth. Very little enamel is removed during the procedure, which gives it an advantage over porcelain veneers and dental crowns. Additionally, bonding usually doesn't involve the use of anesthesia, except when it is used for repairing cavities.

Your Dental Consultation

A dental consultation is a visit with your dental care provider where you can discuss your issues, concerns, and treatment options. During your dental consultation, your dental care provider will talk to you about the changes you would like to make to your smile. During the consultation, your dental care provider will conduct an examination of your gums and teeth that may involve dental x-rays.

Ready for a brand new smile? Start your journey today! Call Morshed Dentistry at 310-393-9664 today to schedule a dental consultation in Santa Monica, CA. Dental bonding has helped many of our patients improve their smiles, boosting their self-esteem and changing their lives. And it can do the same for you!
By Morshed Dentistry
November 03, 2015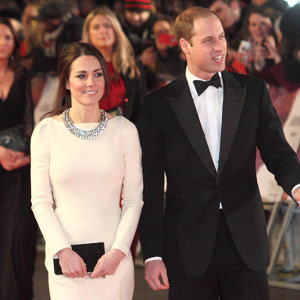 So you're tearing up the dance floor at a friend's wedding, when all of a sudden one of your pals lands an accidental blow to your face — chipping out part of your front tooth, which lands right on the floorboards! Meanwhile, your wife (who is nine months pregnant) is expecting you home in one piece, and you may have to pose for a picture with the baby at any moment. What will you do now?
Take a tip from Prince William of England. According to the British tabloid The Daily Mail, the future king found himself in just this situation in 2013. His solution: Pay a late-night visit to a discreet dentist and get it fixed up — then stay calm and carry on!
Actually, dental emergencies of this type are fairly common. While nobody at the palace is saying exactly what was done for the damaged tooth, there are several ways to remedy this dental dilemma.
If the broken part is relatively small, chances are the tooth can be repaired by bonding with composite resin. In this process, tooth-colored material is used to replace the damaged, chipped or discolored region. Composite resin is a super-strong mixture of plastic and glass components that not only looks quite natural, but bonds tightly to the natural tooth structure. Best of all, the bonding procedure can usually be accomplished in just one visit to the dental office — there's no lab work involved. And while it won't last forever, a bonded tooth should hold up well for at least several years with only routine dental care.
If a larger piece of the tooth is broken off and recovered, it is sometimes possible to reattach it via bonding. However, for more serious damage — like a severely fractured or broken tooth — a crown (cap) may be required. In this restoration process, the entire visible portion of the tooth may be capped with a sturdy covering made of porcelain, gold, or porcelain fused to a gold metal alloy.
A crown restoration is more involved than bonding. It begins with making a 3-D model of the damaged tooth and its neighbors. From this model, a tooth replica will be fabricated by a skilled technician; it will match the existing teeth closely and fit into the bite perfectly. Next, the damaged tooth will be prepared, and the crown will be securely attached to it. Crown restorations are strong, lifelike and permanent.
Was the future king "crowned" — or was his tooth bonded? We may never know for sure. But it's good to know that even if we'll never be royals, we still have several options for fixing a damaged tooth. If you would like more information, please contact us or schedule an appointment for a consultation. You can learn more by reading the Dear Doctor magazine articles "Repairing Chipped Teeth" and "Crowns and Bridgework."
By Morshed Dentistry
October 30, 2013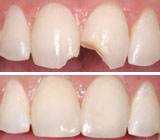 Imagine this: your active, adventurous child — or adolescent — loves high-risk contact sports like hockey or football, and while playing breaks a front tooth. After an emergency trip to our office, we recommend bonding as a good choice for this repair.
"What is bonding?" you ask. Here's what you need to know. In a bonding procedure, a composite resin restoration material is attached (bonded) to the broken tooth, and it looks as good as new.
Composite resin restorations are tooth-colored filling materials composed of a special plastic-based matrix for strength, with glass filler for aesthetics and translucence. The combination looks just like a natural tooth. The composite resin material is physically bonded to the remaining healthy tooth structure. First the natural tooth enamel or dentin must be etched so that the composite resin can attach and actually join to the tooth. In the end it will function as one and look exactly like a tooth.
Composites can be placed directly on the teeth in our office, quite easily, and they are relatively inexpensive. They look natural and can be matched to your child's natural tooth. They require little to no tooth reduction. Bonded composite resin restorations are the best choice for children and teenagers because their teeth and jaws are still growing and developing. What's more, they are still active in their sports and could need further restorations.
Composite resin restorations may need to be replaced with more permanent restorations after your child is fully grown. The bonded resin restorations may wear over time, and may stain and dull somewhat with age. When your child has completed growth, more permanent restorations such as porcelain veneers or crowns may be necessary.
By the way, a custom-made mouthguard might have prevented injury in the first place and certainly should be considered in the future.
If your child has chipped or damaged a tooth, contact us today to schedule an appointment or to discuss your questions about bonding and a protective mouthguard. You can also learn more by reading the Dear Doctor magazine article "Repairing Chipped Teeth."