Posts for: May, 2015
By Morshed Dentistry
May 29, 2015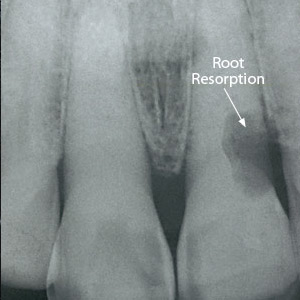 As a new permanent tooth develops, the roots undergo a process of breakdown and growth. As older cells dissolve (a process called resorption), they're replaced by newer cells laid down (deposition) as the jaw develops. Once the jaw development ends in early adulthood, root resorption normally stops. It's a concern, then, if it continues.
Abnormal root resorption most often begins outside of the tooth and works its way in, beginning usually around the neck-like (or cervical) region of the tooth. Also known as external cervical resorption (ECR), the condition usually shows first as pink spots where the enamel is being undermined. As these spots continue to erode, they develop into cavity-like areas.
While its causes haven't been fully confirmed, ECR has been linked to excessive pressure on teeth during orthodontic treatment, periodontal ligament trauma, teeth-grinding or other excessive force habits, and bleaching techniques performed inside a tooth. Fortunately, ECR is a rare occurrence, and most people who've had these problems won't experience it.
When it does occur, though, it must be treated as quickly as possible because the damage can progress swiftly. Treatment depends on the size and location of the resorption: a small site can often be treated by surgically accessing the tooth through the gum tissue and removing the offending tissue cells. This is often followed with tooth-colored dental material that's bonded to the tooth to replace lost structure.
A root canal treatment may be necessary if the damage has extended to the pulp, the tooth's interior. However, there's a point where the resorption becomes too extensive to save the tooth. In these cases, it may be necessary to remove the tooth and replace it with a dental implant or similar tooth restoration.
In its early stages, ECR may be difficult to detect, and even in cases where it's been diagnosed more advanced diagnostics like a CBCT scanner may be needed to gauge the extent of damage. In any case, it's important that you have your teeth examined on a regular basis, at least twice a year. In the rare chance you've developed ECR, the quicker it's found and treatment begun, the better your chances of preserving the tooth.
If you would like more information on root resorption, please contact us or schedule an appointment for a consultation.
By Morshed Dentistry
May 08, 2015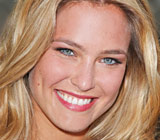 Let's say you happen to be sitting on a plane next to supermodel Bar Refaeli, who was recently voted #1 on Maxim magazine's Hot 100 list. You're a little nervous, but you want to make a good impression. What's the first thing she's going to look at? Your expensive suit? Your sculpted torso? How about — your smile!
"Teeth are the first thing I look at," explained the glamorous cover girl in a Maxim interview. "A nice smile with beautiful teeth is the most attractive thing."
We wholeheartedly agree. But, of course, not everyone is lucky enough to be born with a perfect set of teeth. What to do then?
"Let's just say that with today's orthodontists, I don't understand why people wouldn't fix them," Refaeli stated. Need we say more?
The Israeli supermodel, who has appeared in several Sports Illustrated swimsuit issues, knows what she's talking about. Refaeli started modeling as a young child, but had to put her career on hold for a few years while she got braces. When they came off, at age 11, she began her steady climb to the top of the modeling business.
Plenty of aspiring actors and models — as well as regular folks — get braces as children. But if you're serious about improving your smile, it's never too late to have orthodontic treatment. For adults, there are many options available in addition to the standard metal appliances.
Colorless ceramic braces offer a less noticeable way to correct misaligned teeth. Made of high-tech materials that resist staining, their translucent appearance blends so well with the look of your natural teeth that it can be hard to tell you're wearing them.
Clear aligners are an alternative to braces that are worn 20-22 hours per day. They consist of a series of precision-made, transparent "trays" that gradually straighten your teeth over a period of time. Best of all, you can remove them for special occasions — like meeting a supermodel.
Which type of orthodontic treatment is best for you? Why not come in for a consultation and find out! Working together, we can evaluate your situation and develop an effective, individualized treatment plan that fits your lifestyle.
If you have questions about orthodontic treatment, please contact us or schedule an appointment for a consultation. You can learn more in the Dear Doctor magazine article "Orthodontics For The Older Adult."