Posts for: February, 2015
By Morshed Dentistry
February 27, 2015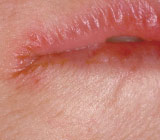 You may be suffering from an uncomfortable cracking of the skin at the corners of the mouth. This condition is known as perleche (or angular cheilitis). From the French word "lecher" ("to lick"), it derives its name from the tendency of sufferers to lick the affected areas.
There are a number of causes for perleche. It's found most often in children who drool during sleep, or in teenagers or young adults wearing braces. Older adults develop perleche due to the wrinkling of skin caused by aging; and anyone can develop the condition from environmental factors like cold, dry weather. Conditions from within the mouth may also be a cause: inadequate saliva flow; inflammation caused by dentures; or tooth loss that diminishes facial support and puts pressure on the skin at the corners of the mouth. Systemic conditions such as anemia, diabetes or cancer can dry out oral tissues and membranes, which may lead to perleche.
Our first priority is to treat any underlying infection. Cracked mouth corners are easily infected, most commonly from yeast called candida albicans. The infection may range from minor discomfort localized in the affected area to painful infections that involve the entire mouth and possibly the throat. Any of these can be treated with an oral or topical anti-fungal medication, including anti-fungal ointments applied directly to the corners of the mouth until the infection clears up. Chlorhexidine mouth rinses can also be used to treat minor yeast infections.
As for healing the cracked skin, a steroid ointment for control of inflammation combined with a zinc oxide paste or ointment will serve as an antifungal barrier while the tissues heal. If the condition is related to missing teeth or dentures, we can take steps to replace those teeth or ensure the dentures are fitting properly. Good oral health also goes a long way in preventing further reoccurrence of perleche, as well as dermatological techniques to remove deep wrinkles due to aging.
If you would like more information on perleche and other mouth sore issues, please contact us or schedule an appointment for a consultation. You can also learn more about this topic by reading the Dear Doctor magazine article "Cracked Corners of the Mouth."
By Morshed Dentistry
February 12, 2015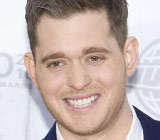 What happens if you're right in the middle of a song, in front of an arena full of fans… and you knock out a tooth with your microphone? If you're Michael Buble, you don't stop the show — you just keep right on singing.
The Canadian song stylist was recently performing at the Allphones Arena in Sydney, Australia, when an ill-timed encounter with the mike resulted in the loss of one of his teeth. But he didn't let on to his dental dilemma, and finished the concert without a pause. The next day, Buble revealed the injury to his fans on his Instagram page, with a picture of himself in the dentist's chair, and a note: "Don't worry, I'm at the dentist getting fixed up for my final show tonight."
Buble's not the only singer who has had a close encounter with a mike: Country chanteuse Taylor Swift and pop star Demi Lovato, among others, have injured their teeth on stage. Fortunately, contemporary dentistry can take care of problems like this quickly and painlessly. So when you've got to get back before the public eye, what's the best (and speediest) way to fix a chipped or broken tooth?
It depends on exactly what's wrong. If it's a small chip, cosmetic bonding might be the answer. Bonding uses special tooth-colored resins that mimic the natural shade and luster of your teeth. The whole procedure is done right here in the dental office, usually in just one visit. However, bonding isn't as long-lasting as some other tooth-restoration methods, and it can't fix large chips or breaks.
If a tooth's roots are intact, a crown (or cap) can be used to replace the entire visible part. The damaged tooth is fitted for a custom-fabricated replacement, which is usually made in a dental laboratory and then attached at a subsequent visit (though it can sometimes be fabricated with high-tech machinery right in the office).
If the roots aren't viable, you may have the option of a bridge or a dental implant. With a fixed bridge, the prosthetic tooth is supported by crowns that are placed on healthy teeth on either side of the gap. The bridge itself is a one-piece unit consisting of the replacement tooth plus the adjacent crowns.
In contrast, a high-tech dental implant is a replacement tooth that's supported not by your other teeth, but by a screw-like post of titanium metal, which is inserted into the jaw in a minor surgical procedure. Dental implants have the highest success rate of any tooth-replacement method (over 95 percent); they help preserve the quality of bone on the jaw; and they don't result in weakening the adjacent, healthy teeth — which makes implants the treatment of choice for many people.
So whether you're crooning for ten thousand adoring fans or just singing in the shower, there's no reason to let a broken tooth stop the show: Talk to us about your tooth-restoration options! If you would like additional information, please contact us or schedule an appointment for a consultation. You can learn more by reading the Dear Doctor magazine articles "Repairing Chipped Teeth" and "Dental Implants vs. Bridgework."