Posts for: November, 2013
By Morshed Dentistry
November 25, 2013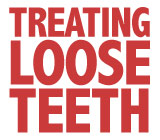 Adult teeth aren't meant to be loose — it's a sign that something is wrong. And while there are treatments, time is of the essence before permanent tooth or bone loss occurs.
Loose teeth can occur for many different reasons. Bite-related problems are fairly common, referred to as occlusal trauma ("occlusal" – bite; "trauma" – injury). This could be the result of excessive force placed on otherwise normal teeth and jaws — chronic clenching or grinding habits, for example. On the other hand, even normal biting or chewing can cause teeth to loosen if bone loss from gum disease has become excessive, reducing the remaining attachment to bone to inadequate levels. In some cases it can be a result of both excessive force and weakened bone levels.
Of these reasons, the most common cause is the weakened attachment of the teeth to the bone due to gum disease. If this is the case, it's important first to treat the gum disease by an appropriate strategy for the disease present and then implement an effective dental hygiene program to inhibit reoccurrence.
As for the problem of loose teeth, there are measures to address it. Occlusal bite adjustment reduces the degree of force when biting or chewing by reshaping the biting surfaces through selective grinding. Splinting is another technique in which the teeth are joined together to make them more rigid and to redistribute the biting force among several teeth. This can be done with material bonded across the outside of several teeth or with a metal splint affixed within a pre-cut channel across the teeth. A more permanent option is to create a series of crowns to affix to the teeth and then fuse them together.
Although more complex, orthodontics to correct misaligned teeth is another option. Not only will it improve the bite and potentially reduce bite forces, it may also improve the health of the supporting periodontal attachment.
Before undertaking any treatment, you should first undergo a thorough exam to determine the true cause of your loose teeth and any underlying conditions. From there we can recommend the best approach for treating and preserving your teeth.
If you would like more information on treatments for loose teeth, please contact us or schedule an appointment for a consultation. You can also learn more about this topic by reading the Dear Doctor magazine article "Treatment for Loose Teeth."
By Morshed Dentistry
November 15, 2013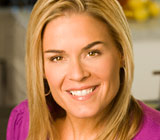 Cat Cora, philanthropist, author, chef, restaurateur and the first female chef on the Food Network's hit series Iron Chef America is a dynamo driven by a desire to change people's lives for the better. And she is no different when it comes to tackling her most challenging role: caring for the needs of her four active young sons. This includes monitoring the food they eat, their oral hygiene habits and protecting their teeth from injuries.
During an interview with Dear Doctor magazine, Cat describes a backyard accident in which one of her boys, Zoran, was accidentally knocked in the mouth by another child while jumping on the family's trampoline. While her son was not seriously injured, it did cause her to take proactive steps to avoid future injuries. She had her dentist make a custom-fitted mouthguard to protect his newly erupted adult teeth. He now wears the mouthguard while on the trampoline and when playing soccer.
If you and/or your children routinely participate in contact sports — boxing, football, hockey, lacrosse, soccer, water polo, rugby and basketball, for example — or other forms of vigorous physical activity, you too should consider getting a professionally made mouthguard. A properly fitted mouthguard can help prevent injuries to the jaws, lips and teeth. And unlike those cumbersome "boil and bite" mouthguards you can purchase at a drugstore, the ones we make will stay in place, making it easier for you to breathe and talk.
If you are still not convinced, consider these facts: According to the American Dental Association, an athlete is 60 times more likely to suffer harm to the teeth when not wearing a mouthguard. And the US Centers for Disease Control reports that sports-related dental injuries account for more than 600,000 visits to the emergency room each year. Furthermore, people who do not have a knocked out tooth properly reserved or replanted may face a lifetime cost of $10,000 to $20,000 per tooth, according to the National Youth Sports Foundation for Safety.
To learn more about mouthguards, continue reading the Dear Doctor magazine article "Mouthguards." Or if you are interested in obtaining a mouthguard for yourself and/or your child, contact us today to schedule an appointment. And to read the entire interview with Cat Cora, please see the article "Cat Cora."