Posts for: June, 2013
By Morshed Dentistry
June 27, 2013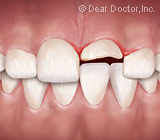 One went over the handlebars of his mountain bike. Another got an elbow going for a lay-up. For a third, it was that tricky maneuver on her new snowboard...
These are just a few of the ways that kids' teeth can be injured. (No doubt, parents can think of plenty more.) The good news is that modern dentistry offers more options than ever for treating the injury and restoring the appearance and function of the teeth.
Teeth that are fractured or dislodged are a serious condition that requires immediate, comprehensive treatment. The majority of dental injuries, however, are less severe: most often, they involve chipped teeth. If chips occur in the upper front teeth — as some 80% of dental injuries do — even small flaws can have a big affect on the appearance. And, especially in the teenage years, appearance can mean everything.
In many cases, small chips in the teeth can be repaired effectively using a procedure called "bonding." In this treatment, we use a tooth-colored material made by mixing a plastic matrix and a glass-like filler, which provides adequate strength and aesthetic qualities similar to the natural teeth. In fact, this composite material can be matched to an individual's tooth color so accurately that it's hard to notice any difference.
Composite resins can be successfully bonded to most healthy teeth — and they offer some advantages over other restoration methods, particularly for children and teenagers. The bonding procedure avoids making tiny "undercuts" in the natural substance of the tooth, while metal fillings need to "lock in" to the tooth's structure. This means that bondings generally require less tooth preparation, which usually makes bonding a quick and relatively easy method of restoration.
It's true that, over time, some bonded restorations may not stand up to the tremendous biting forces of the jaw as well as porcelain restorations — but in young people whose permanent teeth have large pulp (nerve) chambers, the removal of too much tooth structure could compromise the long-term health of the tooth. Later on, we can look at performing a different type of restoration.
If you have questions about cosmetic bonding or sports-related dental injuries, please contact us or schedule an appointment for a consultation. You can learn more in the Dear Doctor magazine articles "Repairing Chipped Teeth" and "An Introduction to Sports Injuries & Dentistry."
By Morshed Dentistry
June 14, 2013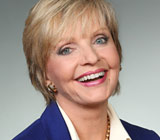 She's an international star who's recognized everywhere she goes. As Carol Brady, she was an ambassador for the "blended family" before most of us even knew what to call her bunch. And her TV Land Pop Culture Icon Award is on permanent display in the National Museum of American History. So what item that fits inside a purse can't Florence Henderson do without?
"I will never leave home without dental floss!" she recently told an interviewer with Dear Doctor magazine. "Because I have such a wide smile, I have found spinach or black pepper between my teeth after smiling very broadly and confidently."
Henderson clearly understands the importance of good oral hygiene — and she's still got her own teeth to back it up! In fact, flossing is the best method for removing plaque from between the teeth, especially in the areas where a brush won't reach. Yet, while most people brush their teeth regularly, far fewer take the time to floss. Is there any way to make flossing easier? Here are a couple of tips:
Many people have a tendency to tighten their cheeks when they're holding the floss, which makes it more difficult to get their fingers into their mouths and working effectively. If you can relax your facial muscles while you're flossing, you'll have an easier time.
To help manipulate the floss more comfortably, try the "ring of floss" method: Securely tie the floss in a circle big enough to easily accommodate the fingers of one hand. To clean the upper teeth, place fingers inside the loop, and let the thumb and index finger guide the floss around each tooth. For the lower teeth, use two index fingers. Keep moving the floss in your hand so you always have a clean edge... and remember, the goal is to get the tooth clean, but it shouldn't hurt — so don't use too much pressure or go too fast.
So take a tip from Mrs. Brady: Don't forget the floss! If you would like more information about flossing and other oral hygiene techniques, please contact us for a consultation. You can learn more in the Dear Doctor magazine article "Flossing: A Different Approach."